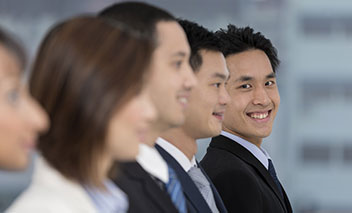 Does your company deal with non-English-speaking countries?
Is your company actually based in a non-English-speaking country?
Would you yourself like to work in a non-English-speaking country?
If you are interested in using a language in a business context, this programme is for you!
We offer language courses in the main languages likely to be encountered by New Zealand businesses. These include our special options geared to the needs of the business community, and detailed information can be found under:
French for Business
Spanish for Business
Chinese (Mandarin) for Business
Japanese for Business
German for Business
Italian for Business
Portuguese for Business
Korean for Business
Our Language for Business programmes are designed for people with a professional interest in learning the language in question. For a number of years, Euroasia has been specialising in language teaching and in cross-cultural consulting. Now we have combined both areas of expertise and created a series of business-related language courses.
Even at beginner level, you can benefit from taking a course related to the world of business.
In-house language training
We are pleased to discuss sending one of our teachers to your company to provide tuition to a group of your staff with similar needs.
A key part of our service is analysing your needs and seeing how they can be met most efficiently. Some of the questions we will discuss include:
What level of competence do you need your staff to acquire?
How much time do you have available?
What kind of language skills do they need (conversation, reading, writing…)?
How will they be using them?
Under languages we have information on the European languages and Asian languages that we generally teach.
Language training for businesses
Even though English is the international language, and it's the world's first choice for second-language learners, the majority of the Earth's population still speaks little or no English.
Instead, they manage with one of the other 5,999 or so languages spoken around the world! If we in New Zealand wish to reach out to these people, we need staff who can speak their language.
Perhaps knowing another language is not strictly essential in dealing with many people who do not have English as their first language. Yet still there are many reasons why New Zealand companies should consider a language-training programme for their staff:
Knowing something of another language provides insights into another culture and way of thinking.
You pick up a lot more of what is happening.
Empathy with your partners comes more naturally.
You show that you have gone some way to equalling the effort your international partners have made to learn English.
Euroasia's language training clients come from various sectors including businesses and government.
You'll find more information under: group language classes, Language for Business, in-house tuition and private classes. Euroasia also offer a range of language-related services for the corporate sector; these include translation, interpreting, and language assessment.
Private classes are an ideal way to make progress in language learning. They will suit people who:
Have a tight schedule.
Can't fit in with timetabled, group classes.
Can't always commit to the same time every week.
Have quite specific needs (for example, just needing to read texts, or maybe deliver a speech).
Want to progress at their own pace.
Our classes are offered either at our teaching centres or in our clients' places of work (or home).
Private classes are offered on either a one-to-one or, at the same price, a two-to-one basis. They are generally delivered in blocks of 15 hours.
The fee for private classes starts from $86 per hour. This fee is for tuition at Euroasia's premises; fees for tuition elsewhere will generally be a little higher. The fee covers all materials.
Please contact us so that we can discuss your particular requirements and a programme which will best meet your needs.
For companies, Euroasia also offers in-house training, and our standard group language classes are available at a variety of levels.